Services Menu
---
Subscribe Here to
Receive Special Savings,
Event Info & Care Updates.
Cosmelan Depigmentation
---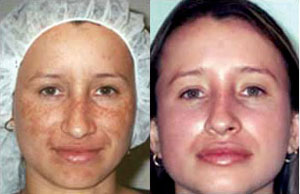 Cosmelan MD Depigmentation Treatments are a wonderful weapon
in the ongoing fight against brown spots, Melasma and Chloasma. Sun exposure, hormones and heredity create pigment problems that can affect patient's self-image so treating pigment is a journey worth taking. Cosmelan's prescription-level ingredients work synergistically to regulate the skin's pigment producing cells (melanocytes) and slow down over-production. Cosmelan has a very high safety margin and gets very high marks for patient satisfaction. Cosmelan's mechanism is based on the inhibition of tyrosinase, a basic enzyme in the melanin formation process. Cosmelan also accelerates cell turnover, pushing pigment to the surface where they are sloughed off.
Cosmelan is a 2-step process
. At the doctor's office, a Cosmelan mask is applied  and must remain on your skin for 8 to 12 hours. It is washed off at home. The second step is a home maintenance cream, Cosmelan 2, a cocktail of Kojic Acid, Phytic Acid, and Vitamin C; it is applied twice a day for two weeks, then once a day for several more weeks to achieve an optimum depigmentation response.

Cosmelan works for all skin types
, including Asian and Latin skin, for which pigment can be a formidable and resistant foe. Cosmelan MD will cause peeling in the first 3 to 5 days. A topical corticosteroid can be used to control inflammation and plan to use sun protection diligently during this time and going forward to prevent pigmentation from returning.   
Depending on the severity of the pigment problem, the doctor may consider ways to augment its effectiveness with SILKPEEL preps, FRAXEL, IPL, and proprietary peels. Spot treatment of stubborn spots with the laser is also choice the doctor may opt for. Each patient is different and pigment is persistant, so careful management and follow-up treatments will be the best course of action.