Services Menu
---
Subscribe Here to
Receive Special Savings,
Event Info & Care Updates.
Derma Roller VIDEO
Microneedling with Dermaroller & Dermapen
---
Improves Fine Lines, Texture,
Scars, Stretch Marks

and Remodels Your Skin's Natural Collagen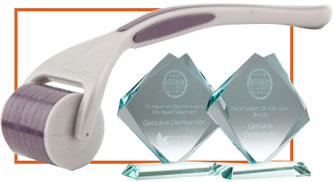 Gentle. Comfortable.
Low Risk.
A favorite in Europe for decades.
Great for all skin types.

One of Harper's BAZAAR Top 15 Beauty Bets, De rmapen's results can rival the la ser for rebuilding collagen and it is more "friendly" for darker skinned people.
Affordable and liftestyle-friendly, Dermaroller and Dermapen are two devices used for a treatment called microneedling , a non-ablative, cosmetic procedure highly effective for treating depressed and raised scars, stretch marks, pigment and wrinkles. Used extensively in Europe, microneedling rebuilds skin tissue using the body's natural healing response without significantly injuring the skin's top layer (epidermis). Minimally invasive microneedling has a very low risk of infection and complications. And since no heat is involved, it is safe for darker skin types, without the worry of triggering pigment.
FDA-approved Dermapen which uses fine needles plus vibration had the unique advantage of agility; it's nimble handpiece allows it to fit into tight spaces to treat Acne scars, fine wrinkles, stretch marks and raised scars. An anti-aging hyaluronic serum is applied just prior to treatment.
Full-face treatments take about an hour. After your face is numbed, the sterile single-use microneedler is applied to the face, leaving behind tiny pinholes which trigger a cascade of reactions which stimulate regenerative healing. You can expect redness following treatment which will resolve within a few days. During the healing process, skin cells release growth signals to stem cells. New fibroblasts rush in. New collagen fibers thicken the skin, filling in depressed scars, forming a new, healthy collagen layer (collagenesis) in the treated area. The healing process also generates growth of endothelial cells (the thin layer of cells which line capillaries and blood vessels). In turn, this creates new capillaries (angiogenesis) for better blood supply to the skin.
Aftercare is easy. Sun protection/avoidance is a MUST! Microneedling can be repeated in about 4 weeks for added improvement. Combine microneedling with Fraxel, lasers, fillers, etc. for a total rejuvenation that is progressive and safe.
Call for a consultation to find out if
microneedling is right for you.

Crowsfeet and lip wrinkles show improvement after just 1 Dermaroller treatment.