While no face is completely symmetrical, illness, weight loss, genetics, aging, tissue loss due to disease or trauma, and prior surgeries can compromise the natural pleasing balance of the face and create distortions.
Dr. Duffy draws upon his vast experience with injectable fillers to reshape the angles of the face, cheeks, jawline, chin, and nose without the need for more invasive plastic surgery.
Dr. Duffy has successfully reshaped many "off-kilter" noses by augmenting underlying cartilage placement. It is possible to recontour the tip, or straighten the bridge through the artful use of dermal fillers. These types of improvements are significant and immediate.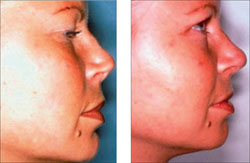 Before-and-After - Bump on nose from previous surgery