Services Menu
---
Subscribe Here to
Receive Special Savings,
Event Info & Care Updates.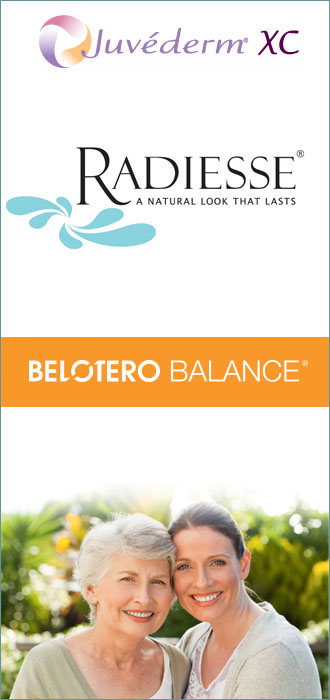 Extensive Laser Center
---
A Multitude of Lasers & Light Therapies
Our Laser Center is comprised of 7 state-of-the-art lasers purpose-built to correct a multitude of skin issues. Volumes can be written about the use of lasers, but rest assured that we've reviewed all kinds of equipment and found the most effective and gentle technologies for our patients. Resurfacing lasers are excellent for treating sharp lines surrounding the mouth, nose, and eyes. They vaporize thickened, irregular and discolored skin and confer the bonus of firming underlying tissue. Intense Pulsed Light is a genuine multi-tasker: gentle and effective for Rosacea, Melasma and Acne and a multitude of problems. BLU-U Light /Levulan reverses deeper sun damage and actinic keratosis on face, arms, chest, and neck.
Q-Switch lasers are excellent for all colored scars, marks, pigment and tattoos. We have Ulthera and Pelleve for overall tightening and lifting. Please see our chart.

Dr. Duffy's experience with lasers spans 20 years and thousands of patients so you can rely on his clinical judgment to yield solid results for you.


Wrinkles, Rough Texture, Resurfacing
IPL
CO2 Laser FRAXEL
Sun Damage
IPL
CO2 Laser FRAXEL Photodynamic Blu-U
Freckles, Spots, Pigment, Spider Veins, Birthmarks, Tattoos
IPL
Versa Pulse Q-Switch
Scars and Deeper Wrinkles
CO2 Laser
Q-Switch FRAXEL
Tightening and Lifting
Ulthera and Pelleve
Pre-Cancerous Cells
Photodynamic Blu-U Therapy
Laser Resurfacing
Dr. Duffy has performed laser resurfacing since 1995, producing successful results for hundreds of patients. He brings a wealth of technical skills and imperical knowledge, enhanced by the training he offers for other physicians and by the workshops he attends. Resurfacing with our CO2 Laser is an excellent way to treat pitted scars, crows feet and sharp lines around the mouth, nose, and eyes. The laser uses tiny bursts of light to vaporize thickened, irregular and discolored surface skin on the face and chest. In addition to leveling the skin's crevasses, laser resurfacing often confers the bonus benefit of overall tightening and firming of the underlying tissue. Small spot procedures can be done with just a local anesthetic or numbing. Full face resurfacing requires nerve blocks or general anesthetic. Aftercare and recuperative downtime will vary with the extent of the treatment; 2 to 4 weeks is average. All the details of what to expect are discussed at your Pre-Treatment Consultation. Care following resurfacing generally involves the applications of ointments and dressings and follow-up visits to check progress and manage side effects. Laser resurfacing can also be combined with other resurfacing modalities such as peels, dermal fillers, etc. As always, Dr. Duffy will plan a comprehensive and integrated treatment schedule for you according to your needs, goals and lifestyle.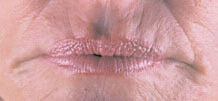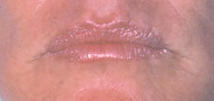 Using the CO2 Laser, excellent for resurfacing, Dr. Duffy can correct sharp lines and pitted scars. The lips shown here were augmented with an injectable filler.
Treating Scars, Birth Marks & Tattoos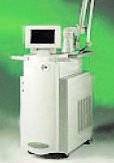 The Versa Pulse Laser is a huge step forward in the development of technologies to treat pigmented lesions (cafe-au-lait spots, solar lentigines, birthmarks) which result from excess melanin in the skin's cells. Treatment is relatively quick, comfortable; it feels like numerous snaps with a rubber band. Most patients require no anesthesia. Topical numbing is available for sensitive skins. Side effects are minor and short-lived. Small birthmarks and lentigines may take as little as one or two 30-minute sessions. Larger "cafe-au-lait" spots will take more. Sessions are spaced roughly 6 weeks apart. With the laser, tattoo treatment is more controllable, effective, comfortable and less assaultive on the skin than older methods. By dialing in the laser's light to target ink by color, a tattoo, created by embedding ink in the cells of the dermis, can be vaporized and absorbed by the body. Aftereffects are minor--redness, light crusting or tenderness. You will receive comprehensive instructions for aftercare. Sunscreen is a must! Dr. Duffy is a specialist in the treatment of depressed scars produced by disease, trauma and old surgeries. Using a range of therapies, scars can be minimized and at times, completely erased.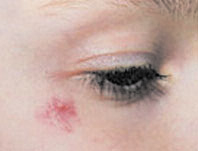 Shown here a reddish birthmark was treated with a single session using the laser.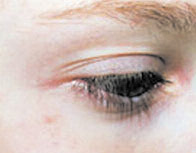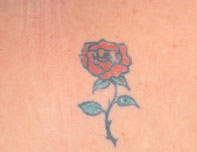 Shown here a multi-colored ink tattoo located on the upper back was treated with multiple sessions. You can see a lightened area left behind where the tattoo was. This may resolve over time.