Services Menu
---
Subscribe Here to
Receive Special Savings,
Event Info & Care Updates.
SILKPEEL Dermalinfusion
---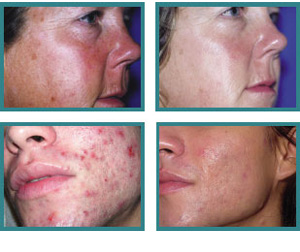 Affordable, convenient and safe, SILKPEEL is a mainstay in improving superficial skin issues. Silkweed  fine-grade diamond tip delivers a gentle, controlled exfoliation with desalinations of a variety of therapeutic solutions: Lumpily, the brightening solution, uses peptides that brighten, even skin tone, and reduce dark spots. The Hydration solution smoothes, hydrates and calms imparting aloe and hyaluronic acids, and nutrient-rich moisturizers to thirsty skin. The Clarifying solution is excellent for acne, using salicylic acids to boost cell turnover, unclog pores and soothe inflammation. The Vitamin C & E -based Detox solution hydrates, brightens and protects against sun and free-radical assaults.

Sessions are just 20 minutes and can be done over a lunch hour, SILKPEEL is so mild and non-invasive that there will be no "hiding period" afterwards, making it ideal for working women and busy moms. The skin appears tighter, clearer and healthier – but not irritated in any way. For this reason, it is a great "first procedure" for new patients and very useful if your skin needs a booster for a special occasion.

It stimulates natural collagen production and lymphatic function, while clearing away debris from pores, top dryness, small shallow rough patches. After SILKPEEL, your skin has a "fresh canvas" Makeup will go on more evenly. Your at-home products will be more effective and last longer.


Dr. Duffy often recommends a series of SILKPEELs at the change of a season: After Summer, to remove sun damage, roughness, accumulation of dead cells, or to address acne flare-ups; After Winter to address surface dryness, wind burn, eczema, redness, etc. Patients may use the first 3 treatments quickly to get a jump on fresher skin at the turn of the season. Then use of the remaining 3 treatments as results wear off or skin gets compromised by environmental or hormonal factors. It's a great way to clear off top dryness left behind after a day of too much sun at the beach or too much wind on the slopes. Or use a few treatments to clear off ill effects following an acne breakout.

In addition, Dr. Duffy has found it to be both an excellent preparation and adjunct for FRAXEL and IPL procedures. SILKPEEL is also an effective way to boost results from FRAXEL and IPL, when interspersed between those treatments to speed exfoliation and stimulate healing.

That's why SILKPEEL has been featured on Oprah,  on Daily Beauty with Katie Couric and in dozens of other health and beauty media because it's both mild and effective for top dryness, rough patches, plugged pores, fine lines, lack of clarity and other surface issues.